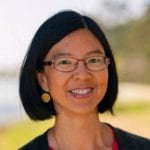 Berkeley City Auditor Jenny Wong gave an eye opening update on accountability in city government, as the first LWVBAE sponsored "Face the Future" speaker Sunday, Sept. 22, at Berkeley Central Library.
Auditor Wong has plunged into her first year in office by training her staff, as well as completing audits on the 911 response dispatchers and inspections by the fire department among others. She is a qualified Auditor with a master's degree in public administration and almost 20 years of experience in the U.S. Government Accountability Office (GAO).
The audience learned that the Berkeley Auditor is one of only four in California with complete independence from the rest of city government. This independence is clearly critical for the auditor's staff to produce trustworthy audits on any city service.
In a nearly two-hour interactive presentation, Auditor Wong responded to all questions and urged the attentive audience to be proactive in following what her Office does at:
www.cityofberkeley.info/Auditor/Home/Audit_Reports.aspx.
All League News