Signed into law in 1990 by President George W. Bush, the month of November became known as National American Indian Heritage Month. This law called upon state, federal, and local governments as well as organizations to observe the month with "appropriate programs, ceremonies, and activities." Celebration of American Indian heritage is particularly important in our country because they were the first inhabitants of the Americas but were victims of genocide and stripped of their culture at the hands of European conquerors. In Berkeley, Albany, and Emeryville, we live on land that was once that of the Indigenous peoples of the Ohlone, Miwok, Muwekma, and Confederated Villages of Lisjan tribes.  Please see a snapshot of American Indian heroes and sheroes!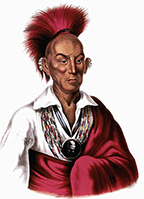 Black Hawk
"Nobody asks to be a hero, it just sometimes turns out that way." 
Black Hawk, whose Indigenous name was Ma-ka-tai-me-she-kia-kiak, was a leader and warrior of the Sauk tribe. He earned the status of war chief by leading his tribe fearlessly in various battles and the Black Hawk War of 1832. After this war, Black Hawk told his life story to an interpreter and published Autobiography of Ma-ka-tai-me-she-kia-kiak or Black Hawk. The book was the first autobiography of an Indigenous person in the US and it was very successful.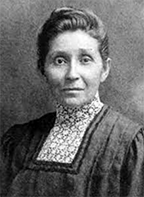 Susan La Flesche Picotte
"I am a dreamer, who dreams, sees visions, and listens always to the still, small voice. I am a trail-blazer."
Susan La Flesche Picotte was the first Indigenous woman to earn a medical degree in the US. She was born on the Omaha reservation but, as a young child, her parents wanted her to learn English so that she would not be isolated from the white world. La Flesche Picotte studied medicine at the Women's Medical College of Pennsylvania and graduated as valedictorian. She took her medical knowledge back to her Omaha reservation and used it to treat and heal her people.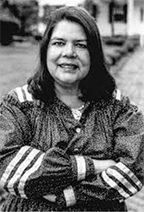 Wilma Mankiller 
"The secret of our success is that we never, never give up."
Wilma Mankiller was the first woman elected Principal Chief of the Cherokee Nation. When she was young, her family moved from Oklahoma to San Francisco as part of a relocation policy. Inspired by Indigenous activism in 1969, she decided that it was her responsibility to advocate for the rights of her people. She worked hard to reduce the number of Indigenous teens that were ending up in the streets of Oakland. In 1977, Mankiller moved back to Oklahoma and fought for running water and higher employment in Cherokee communities. In 1985, she was elected as Chief of the Cherokee Nation and led for ten years.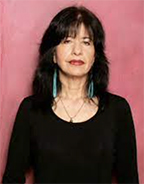 Joy Harjo
"True power does not amass through the pain and suffering of others."
Joy Harjo was born in Tulsa, Oklahoma as a member of the Muscogee Creek Nation. Throughout her career, she has written nine books of poetry, two memoirs, and has received countless awards for her work. Her poems are "carriers of dreams, knowledge, and wisdom" and she uses her work to connect readers with nature and the spiritual world. In 2019, Harjo was named the 23rd Poet Laureate and became the first Indigenous person to serve as such.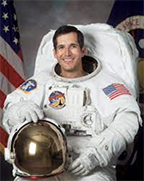 John Herrington
"There are no dreams too large, no innovation unimaginable and no frontiers beyond our reach." 
John Herrington was born in Wetumka, Oklahoma as a member of the Chickasaw Nation. He went on to receive a bachelor's degree in applied mathematics and a master's in aeronautical engineering. From 1991 to 1993, Herrington worked as a test pilot for the U.S. Navy. Later, in 1996, NASA selected him to be an astronaut. In 2002, he traveled to the International Space Station and became the first Indigenous American to travel into space and complete several space-walks. On the mission, he carried with him eagle feathers, arrowheads, and flags of the Chickasaw and Crow nations. He has made it into both the Chickasaw Nation Hall of Fame and the Oklahoma Aviation and Space Hall of Fame.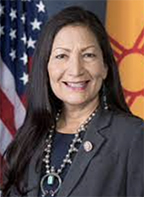 Deb Halaand 
"We don't have time to play politics with the people's lives or the planet's future."
Deb Halaand was born in Winslow, Arizona as a member of the Laguna Pueblo. In 2006, she earned her law degree from the University of New Mexico and became the first chairwoman elected to the Laguna Development Corporation Board of Directors. In this position, Halaand oversaw business operations for the Laguna Pueblo. Halaand began her political career as the chair of the Democratic Party of New Mexico and then went on to join the House of Representatives in 2018. In 2020, President Joe Biden appointed Halaand as Secretary of the Interior and she became the first Indigenous person to be appointed as a cabinet secretary.
All League News