SPECIAL HAZARDOUS WASTE DROP-OFF IN ALBANY
SUNDAY, OCTOBER 8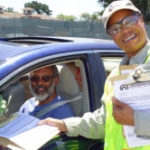 The Household Hazardous Waste Program is sponsoring a one-day event for residents of Alameda County. Please visit our website to make an appointment (appointments are required in order to keep a steady flow of traffic) and then you will receive a confirmation email with the event's address and drop-off instructions. Residents can drop-off mattresses and box springs at this Albany event, but bed frames and other furniture will not be accepted.
This will be the last one-day event of the year, but don't forget the Household Hazardous Waste Facilities are open weekly, year-round, for drop-off of accepted materials.
All League News