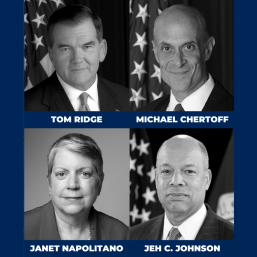 On February 4, 2020, 11:00 am to 12:30 pm, the U C Berkeley Goldman School of Public Policy will host a conversation with four former Secretaries of Homeland Security. The event will be broadcast live over YouTube. To view, use this link.
The discussion will focus on the state of national security following the Trump presidency, the relationship between politics and national security, and how the Biden-Harris administration can meet the current moment.
The featured speakers are Janet Napolitano, Tom Ridge, Michael Chertoff, and Jeh Johnson. Collectively, the four former Secretaries served in the presidential administrations of George W. Bush and Barack Obama. Interested League members can submit questions for the panel of speakers using this form.
–Mattias Hoz
All League News