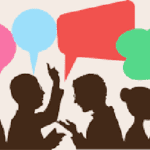 There will be a CivilTalk event Tuesday February 4th 5:45 – 8:00pm at the League Office, 2530 San Pablo Ave, Berkeley. Reserve your spot a week ahead of time at CivilTalk@lwvbae.org. But before registering, please find Conversation, Agreements, and specific questions at LivingRoomConversations.org/topics/Guns/ This will give you the background for this discussion.
Listen to others and share your views of this highly controversial topic in a respectful environment, in a safe venue with trained moderators.
We are a growing movement of people just like you, looking for safe and sane ways to break through the widening  socio/political polarization separating families and communities.
We meet quarterly to share views on current hot topics. Ideally, during a CivilTalk, we hear all sides of an issue. No grandstanding. No arguing. No persuasion.
We ask each person registering to try to invite a person that has opposite views to register too! Just your contributions to these free, carefully moderated live talks can create bridges for others to hear and understand views that feel qualitatively different – certainly different than those found on social media sites .  Rediscover the power of active listening and engagement.
Contact civiltalk@lwvbae.org for details and reservations, with meeting date in the subject line.
All League News