Sherry Smith, past president and board member, has donated 25 free tickets to the Oct. 20 performance of "Strange Ladies," to the first 25 League members to apply. Only three are unclaimed. She writes:
Please join me as my guest at the October 20 performance of Central Works' new musical, "Strange Ladies".  As I leave the theater company's Board, I have secured 25 seats for that 8:00 performance at the Berkeley City Club for a League member theater party.
"Strange Ladies" celebrates the hundredth anniversary of the imprisonment of the "Silent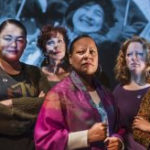 Sentinels" in the Occoquan Workhouse Prison for the crime of picketing the White House and demanding the vote.  The play depicts their experience in the prison, bringing the issue to the national consciousness and the passage three years later of the 19th Amendment.  Music of the era is featured in the play, which is a Central Works premiere. You can read more about the play here.
If you would like to be among my 25 League guests at the October 20 performance, please send me an email confirmation at js1589@berkeley.edu.  First come, first served!
Yours in League,  Sherry Smith
All League News