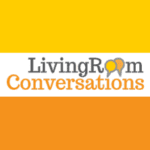 The Civil Talk Team, headed by Marybeth Falzareno, and the Criminal Justice Reform Team, headed by Christine Wenrich partnered for an invitational LivingRoom Conversations meeting Thursday, July 23rd. The topic of conversation, led by Joe Healy, Civil Talk Co-Moderator, focused on what was expected from law enforcement and what communities can do to support this job.
We began the quest with a small group of seven representing varied political leanings, yet we were able to agree on much.  For example, while we concurred that safety equipment to protect police from bodily harm is important, our overall conclusion was that the police were too militaristic; that is, "Don't use a tank when you can use a bicycle."  Participants felt that the police must team up with experienced mental health professionals to direct problems to readily available resources as well as to receive ongoing training regarding effective, non-confrontational interactions with people with disabilities.
Further, the public needs to be acquainted with the officers in their area and visa versa.  There must be interaction between police and citizens outside of business at, for example, coffee house chats and pancake breakfasts. Police must get to know the people they are protecting.
This  was the first run of the Civil Talk /Criminal Justice collaboration.  Plans are for a larger Zoom group on August 25th from 3:00 to 4:30pm to re-imagine police-community relations. Please visit EventBrite for no cost tickets.  We hope to make this a worthwhile exchange of ideas.
archivist@lwvbae.org
All League News