Want to participate as a delegate, a volunteer or observer at the state convention in Sacramento  June 2 – 4?  Seven voting delegates will be selected by a Board sub-committee to represent the League at the Convention.
To be considered, click this link, copy and fill out the form, and send it to president@lwvbae.org.  LWVBAE will partially subsidize attendance for our voting delegates.  First priority goes to future Board members and active off-board members and members who have committed to League positions and jobs for the coming year.
All League members are welcome to attend–by volunteering to assist at convention or by paying to attend as observers for one or more days.
Convention is an exciting and intense way to learn about League key issues and help make decisions for the next two years of the California League.
Here is the link to register.
Here is the link to learn about lodging and find link to  book a room. 
Here is a link to the blog. Look on the right for  further links to other topics such as special add-on events with additional costs, speakers, caucuses etc
More info is added frequently, so check back from time to time, if you don't find what you want the first time.

First Call to LWVC Convention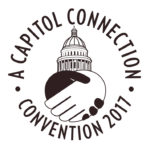 What: The 66th State Convention of the League of Women Voters of California
When: 10 am, Friday, June 2, through 3 pm, Sunday, June 4, 2017, with a special pre-Convention event on Thursday, June 1, 2017.
Where: The Sheraton Grand Sacramento Hotel
1230 J Street
Sacramento, CA 95814
Phone: 916-447-1700
Who: Attendance at Convention is open to everyone; we encourage all members to attend and are eager for the public to come learn about the League. We ask that you extend invitations to your friends and contacts.
A Capitol Connection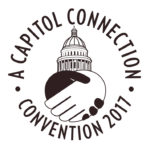 The purpose of Convention is to inspire and empower Californians to increase their active and informed participation in civic life. Come meet passionate people from across the state who are making democracy work!
Our theme is A Capitol Connection. Read more about speakers, workshops, special activities, and more on our blog: http://lwvc.wordpress.com
A range of activities is available to suit any schedule or budget, from investing in a full three-day registration to treating yourself to a special pre-Convention event. Check out your options and register today.
The Sheraton Grand Sacramento is offering a special room rate of $169 per night—but you must book by May 8 to secure this rate. Visit the Convention blog to book online, or you can call the hotel and mention the LWVC Convention. Don't get caught without a room by waiting until the last minute; rooms may sell out before that date!
Business of Convention
This is the first call to Convention 2017 as required by the LWVC bylaws, Article X, Section 7. The LWVC Bylaws govern the composition and business of the convention. Our bylaws direct us (See Article X, Sec. 5) to:
Elect officers, directors, and three members of the nominating committee for the 2017-2019 biennium (Article XII)
Adopt a budget for the 2017-2019 fiscal years (Article IX, Sec. 2)
Adopt program for 2017-2019 (Article XIII)
Adopt amendments to the bylaws as needed (Article XVII)
VOTING DELEGATES
Attending as a voting delegate is an exciting honor and a responsibility. If you are interested in attending as a voting delegate, speak with your local League or Inter-League Organization (ILO) board immediately. [see link in first paragraph for application form to send to LWVBAE President.]
Each local League and ILO is entitled to send its president, or an alternate in the event the president is unable to attend.In addition, each local League is entitled to delegates in proportion to its membership numbers as reported in the LWVUS database on January 31, 2017.  [ For LWVBAE that means we are entitled to a total of 7 delegates!]
Sincerely,
Helen H. Hutchison
President
League of Women Voters of California
All League News