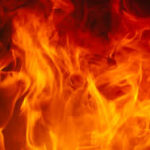 Council Member Susan Wengraf announces a meeting about Fire Safety in Berkeley's Very High Hazard Fire Zone  on Monday, November 13, 2017 at 7:15 pm at Northbrae Community Church, 941 The Alameda. The meeting is free and public.
Topics to be covered include: Vegetation Management; Notification and Warning systems; Evacuation protocols; East Bay Regional Parks; Fire Hydrant Survey; Undergrounding of Utility Wires; And any other questions and concerns you may have.
Invited speakers include: Berkeley Fire Department, East Bay Regional Parks Fire and CAL Fire.
Council Member Wengraf adds: If you have any specific questions, please email me at: swengraf@ci.berkeley.ca.us and I will be sure that a first responder is prepared to give you an answer.
Please read the following information from the City of Berkeley Fire Department:
Evacuation information
Additional Resources
Download a Fire Safety and Suppression Activity Guide.
Learn more about how wildfire evacuation differs from hurricane evacuation at the Hills Emergency Forum page
Learn more about Berkeley's wildfire risk in the 2014 Local Hazard Mitigation Plan (see pages 3-75).
All League News