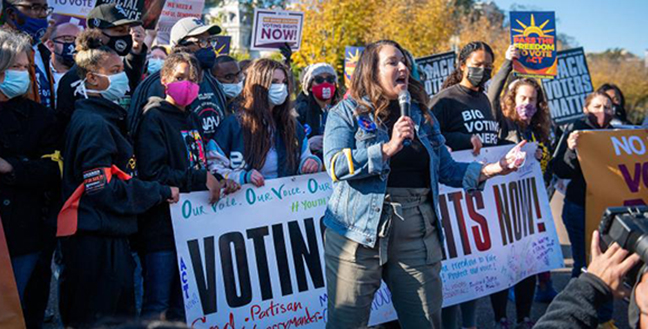 Pam Gaskin, a member of the League of Women Voters of Houston, has been voting by mail for years without incident. This year, she almost missed the deadline — because her application for a mail-in ballot was rejected twice.
In Texas, at least 18,000 ballots were rejected in the March primary election thanks to a new restrictive voting law.
Pam says: "They're making voting hard. Period."
This is just one state's experience. Since the beginning of 2021, 18 states have passed 34 restrictive voting laws — and now that primaries are wrapping up, we're able to see their full, staggering effect. To keep fighting back against these measures, we need your help.

This year's midterm elections could decide the fate of many vital issues — like climate change, reproductive health care, and our country's response to mass gun violence.
That's why it's crucial that you register to vote now at VOTE411.org — or check that your registration is current — and then push back hard against those who would attempt to block you from the ballot box.
Friend, we also need your help to protect the rights of your fellow voters. Your gift today will help the League mount legal challenges to restrictive voting laws, counter mis- and disinformation, and eliminate racial and partisan gerrymandering.

Please join us as we fight to protect voter rights and ensure elections remain fair and accessible.
My deepest thanks for your support,
Deborah Ann Turner, MD, JD
President, League of Women Voters of the United States
All League News