Distinguished speakers Malcolm Margolin and Corrina Gould address the Berkeley Shellmound proposed development on the Spenger's parking lot area  in the LWVBAE Environmental Concerns Series on Monday, May 14, 2018, 7:30-9:00 p.m, at Northbrae Community Church, 941 The Alameda, Berkeley in the Parlor Room. Parking is available in the rear parking lot and wheelchair access is from the parking lot through the south door.  Everyone is welcome!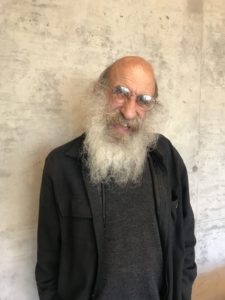 Malcolm Margolin is an author, publisher, and former executive director of Heyday, an independent nonprofit publisher and cultural institution in Berkeley, California.From his founding of Heyday in 1974 until his retirement at the end of 2015, Malcolm oversaw publication of hundreds of books and the creation of two quarterly magazines: News from Native California, devoted to the history and ongoing cultural concerns of California Indians, and Bay Nature, devoted to the natural history of the San Francisco Bay Area. In the fall of 2017, he established a new enterprise, the California Institute for Community, Art, and Nature (California ICAN) to continue and expand upon the work that he began more than 40 years ago.
Margolin is the author/editor of several books including The Ohlone Way: Indian Life in the San Francisco-Monterey Bay Area, named by the San Francisco Chronicle as one of the hundred most important books of the 20th century by a Western writer.
Corrina Gould, spokesperson for the Confederated Villages of Lisjan, born and raised in Oakland, (the territory of Huichin), Corrine works to preserve and protect the ancient burial sites of her ancestors in the Bay Area. Gould is the co-founder of Indian People Organizing for Change, a community based organization whose members including Ohlone tribal members and conservation activists work together in order to accomplish social and environmental justice within the Bay Area American Indian community. Current projects include the preservation of Bay Area Shellmounds, which are the sacred burial sites of the Ohlone Nation, whose homeland is the San Francisco Bay Area.
Some Background: Developer Blake Griggs Properties of Danville invoked SB 35 to move development forward at 1900 4th Street.  Native American and others oppose building on the 2.2-acre parcel, contending it is the site of an Ohlone burial ground, a landmarked site since 2000. The new state law (Sen. Scott Wiener, D, SF) allows a streamlined approval process for zoning-compliant projects that provide at least 50 percent affordable housing.  Blake Griggs plans to construct a 260-unit apartment complex, half of which would be affordable to households earning 80 percent of area median income, which is $80,400 for a family of four.
Ed: Excellent article about current state of the controversy by Frances Dinkelspiel on Berkeleyside
For more information, Contact Carol Stone at seastone11@gmail.com
All League News