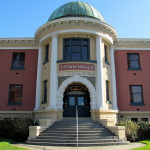 At its early March Meeting Emeryville City Council approved a Housing Bond on the June 5 ballot of  $50 M in bonds and "to provide affordable housing for extremely, very low, low and middle-income individuals and families, including vulnerable populations such as veterans, seniors, local artists, the disabled, current or former foster youth, victims of abuse, people experiencing homelessness and individuals suffering from mental health or substance abuse illnesses. Voters will also be asked to authorize up to 500 new housing units.
A City Website described the project as follows:
The City of Emeryville serves a diverse population of approximately 12,000 people. Emeryville is a great place to live, do business, raise a family and retire. Our city services, arts programs, parks and cultural amenities allow our community to thrive as an urban center. We are proud that a recent survey of Emeryville residents showed very high favorability for the quality of life and the quality of city services. The City of Emeryville has been identifying urgent needs to help increase affordable housing at all income levels.
Maintaining Affordability and Quality of Life
Quality of Life in Emeryville
As our community grows and continues to develop, the shortage of affordable housing presents an ongoing issue. We want all residents to be able to live in safe, decent, affordable homes and still have enough money for groceries and other basic necessities. Emeryville needs locally controlled funding to provide safe and affordable housing for families, seniors, veterans, local artists, people with disabilities and people experiencing homelessness.
Addressing the Affordable Housing Shortage
To provide affordable local housing and prevent displacement of Emeryville residents, the City Council is considering a $50 million affordable housing bond for the June 2018 ballot. A local funding measure would:
Provide affordable local housing
Prevent displacement of vulnerable populations in Emeryville, including low and moderate‑income households, veterans, seniors and people with disabilities
Provide permanent supportive housing for people experiencing homelessness
Help low and middle-income households purchase homes and stay in the community
Fiscal Accountability and Responsibility
By law, all funds would stay local and could not be taken by the State
The use of funds would be subject to independent individuals' oversight
Mandatory annual audits would be required
The measure would cost typical property owners approximately $49 per $100,000 of assessed (not market) home value per year
Background Materials
Frequently Asked Questions
Frequently Asked Questions (FAQs)
For More Information
The City welcomes your questions and feedback as we evaluate our options to provide affordable housing for the City of Emeryville. For more information please contact infohousingbond2018@emeryville.org.
Editor's Note: This material copied from the City of Emeryville Website http://www.ci.emeryville.ca.us/1204/Affordable-Housing-Bond
All League News