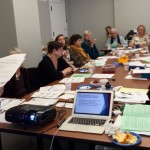 Find out which of our Teams appeals to you. Drop in this month and meet the people and issues we're working on. Consult the Team pages and the calendar entries for more details–better yet, check them out in person.
Unless otherwise noted: All meetings at our League office 2530 San Pablo Ave, Suite F, side street parking below San Pablo Ave. not limited to 2 hours
SAVE Sunday,  AUGUST 27,  FOR VERY EARLY FALL LUNCHEON & MEETING IN A GARDEN
We'll have lunch and tour UC Botanical Garden
For more information about these teams, search for the team webpage and for earlier posts about the teams.
All League News