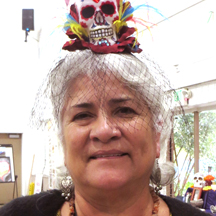 A "Dia de los Muertos" traditional celebration in remembrance of departed relatives and friends on Sat. Oct. 30 from 10 am – 2 pm warmed the hearts and stomachs (!) of several hundred attendees at the Berkeley Adult School. The BAS Multi-Purpose Room was resplendent with colorful ofrendas or altars imaginatively constructed in honor of individuals or groups, some of them felled by COVID19. Indigenous Mexican dancers in striking costume opened the proceedings with a series of dances depicting ancient ways and beliefs. Among the spectators were former BUSD Board Director and BAHIA Executive Director Beatriz Leyva-Cutler, BAHIA Administrative Coordinator Yesenia Chavez, and volunteers at the LWVBAE Voter Registration table.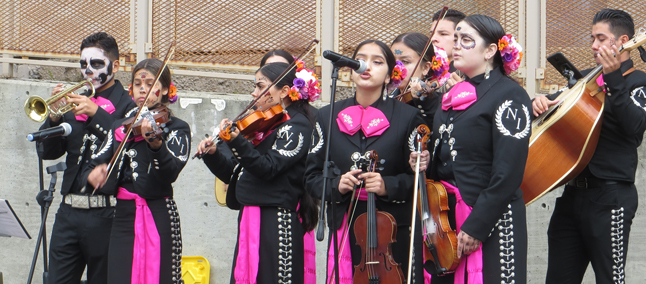 Outside the building were offerings of bicycle tune ups and advice on bicycle
repair, haircuts and massages sorely missed during the pandemic, sign-ups for the
Berkeley Food Network, information from the City of Berkeley Public Health
Department, offerings from the Berkeley Early Book Project, eye-catching Latinx
mementos for sale, pan dulce sold by young men of Berkeley High School, tasty (!)
tacos by Angellos, birria by Los Moles, a lowrider car show by the West Side de
Berkeley Car Club and indispensable for Dia de los Muertos, a spirited mariachi
orchestra.

Sponsors of this Dia de los Muertos celebration — the City of Berkeley, Rise and BAHIA – are to be thanked for their wonderful gift to our community! Dia de los Muertos Dazzles!
–Ruby MacDonald
All League News