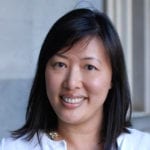 Starting the New Year with a bang, acclaimed journalist Judy Lin will speak Sunday, Jan. 19, 2020, 2 – 4 pm, at Berkeley Central Library on "Budget Decider: Decisions that Impact Millions of Californians" in the LWVBAE "Face the Future" series. Judy Lin's appearance is particularly timely given pressing state issues — such as teachers' salaries and pensions impacting K-12 education, homelessness support and availability of affordable housing stressing local governments, bleak outlook for unmet transportation needs and PG&E meeting financial and service obligations. These topics concern state finances, workforce and economic issues covered by Lin for the publication CalMatters, a nonprofit News organization committed to explaining California policy and politics.
Having earned a reputation for "Accounting for California, one tax dollar at a time," which is her motto, Judy Lin has also written for the Associated Press, Sacramento Bee and Detroit News. Her work on a series titled "California's Pension Crisis" done in collaboration with the Los Angeles Times earned first place in enterprise reporting from the California News Publishers Association. Lin's authoritative writing has also led to her appearance on panels of public policy discussions at institutions such as Stanford University.
Judy Lin is a long-time member of the Asian American Journalists Association and can be followed at @byjudylin.
–Ruby MacDonald
All League News