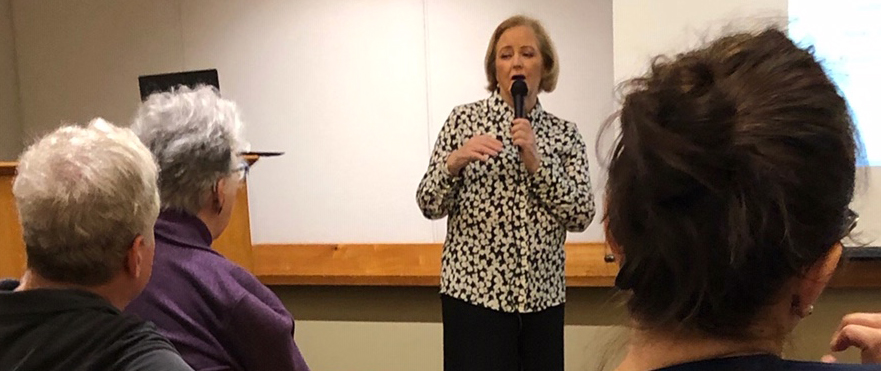 Saving lives with mass shooting prevention and evidence-based youth engagement were the topics of Alameda County District Attorney Nancy O'Malley's presentation for the Face the Future Series Sunday, November 17 at the Berkeley Central Library. The talk was the third installment in the League of Women Voters of Berkeley Albany Emeryville's "Face the Future" series.
O'Malley described what the science now shows about mass shooters, and the concrete steps we can take to mitigate this growing public health concern.
"All of these people who have gotten involved with these shootings have been exposed to violence at an early age," O'Malley said, "and another thing that we've seen, we've looked at all the individuals who've actually killed police officers, almost every one of them had a domestic violence background. So most people aren't born violent, there are some, but they learn violence from violence in their homes. This is another area that we have to focus on."
A key fact that has been uncovered is that every mass shooter had an identifiable crisis point in the weeks or months before the shooting. Most mass shooters study the actions of other mass shooters and look for validation for their motives.
She said approaches are changing after, in the span of three days, there were incidences in Gilroy, CA; El Paso, TX; and then Dayton, OH.
"We're now making a big effort, this is a subtle thing, when the media reports on mass shooters now, they don't mention their names because we don't want to give them notoriety. We know that part of the psychology is that somebody hasn't felt acknowledged or they felt displaced or disadvantaged, and this is their way of getting attention," O'Malley explained.
All of the shooters had the means to carry out their actions, and approximately 80% of school shooters use weapons from home that weren't locked up.
"The science also tells us that in nearly every instance, other people knew about it," O'Malley told the audience. She continued by saying only 4% of mass shooters had a diagnosable mental illness, and the research showed that some think about it for a few months before they carried out their plan.
O'Malley then pointed to the path forward to preventing these tragedies: 1. Communities must move to Identify threats; 2. Manage threats using a coordinated, behavior focused, multidisciplinary approach; 3. Establish appropriate gun policies based on data and research at the local, state and federal levels; 4. Weapons need to be better controlled through age restrictions, permit to purchase licensing, universal background checks, safe storage campaigns, red flag laws, and measures that help control firearm access for vulnerable individuals or people in crisis.
In the second part of her talk, O'Malley focused on juvenile justice. She said her staff was trained in circle restorative justice, and that 15% of the children in juvenile court they see wind up in adult court after her office intervenes to create a better path for the youth.
"But 15% is remarkable for children, kids who've been living in poverty or areas where there's a lot of crime or are the followers in a group of older kids, things like that," she said.
According to The Council of State Governments Justice Center, 80% of youth who are incarcerated are rearrested within three years of release in many states across the country.
The general framework for the district attorney's work with children includes intervention, developing prevention strategies and alternatives to incarceration using research based approaches, youth engagement and transformational education programs.
O'Malley said she is committed to investing in individualized education plans for children in the juvenile court system and working to support kids before it's too late. Since 2012, her office has reduced juvenile court filings by two thirds and has developed programs using evidence-based practices to better serve at-risk youth and the community at large. Those programs include Girls Court, Collaborative Mental Health Court, Safety Net, Young Women's Saturday Program, Stay in School/Male Mentors, Every Day Counts – School Attendance.
A key component at the heart of their work, O'Malley said, was dispelling the hopelessness that engulfs too many children. Part of that hopelessness can result from not doing well in school and slipping further and further behind over long summers when research shows children begin to lose what they've learned without enrichment activities.
The goal is to ensure that every week children have love and support, and someone caring for their well-being, O'Malley said. This is especially true for children who are the victims of human trafficking.
"We actually just opened a house for girls called Claire's House, which is for girls who have been sex trafficked and are under 18," she said. The home was converted from a rectory into a safe place for girls after a campaign involving Catholic Charities.
In her final remarks, O'Malley said there was still follow up research and evaluation to be done on her office's programs. She thanked attendees and reminded everyone to stay involved with these critical issues.
"We all have to be vigilant, we can't rely on our politicians," O'Malley said.
Shortly after O'Malley's talk, Berkeley resident Cara Mia Gambina, who had engaged O'Malley about her approach to making communities safer, said the problem was a lot bigger than guns. Gambina said she was so touched by O'Malley's comprehensive approach to caring for the community and the most vulnerable.
"I think it's amazing that she's looking at the whole, every aspect, every angle, not just looking at one piece of the puzzle," Gambina said.
To get involved and learn about upcoming events in the speaker series, "Face the Future", check LWVBAE.org and social media for announcements.
–Kandea Mosley
All League News