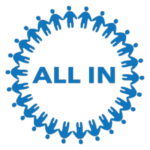 Join ALL IN and the Alameda County Board of Supervisors  on Wed., June 7, at 1:30 pm at 1221 Oak Street 5th Floor Board Chambers Oakland,
to learn how federal budget changes will affect you. Join us for a discussion on how federal and state budget changes to healthcare, affordable housing, social services and public protection impact Alameda County. The event is free and open to the public. You can RSVP here.
  Alameda County describes All In as the new war on poverty. Below is some background and information provided on the webside for All In.
Poverty Must End
The staggering increase in poverty and inequality demands that we act now. Taking into account the cost of living, California has the highest poverty rate in the nation at 23.8% and the highest poverty rate among seniors. In Alameda County, more than half the children live in poverty in 15 neighborhoods and more than one-third live in poverty in another 36 neighborhoods.
Food as Medicine
Food as Medicine (PDF) is a multi-sector initiative launched by several partners, Alameda County Supervisor Wilma Chan, ALL IN Alameda County, UCSF Benioff Children's Hospital Oakland, Deputy Sheriffs' Activities League, the Alameda County Community Food Bank, and the Alameda County Public Health Department. ALL IN Alameda County provides the organizational backbone for the collaboration, and the initiative was to be rolled out in the fall of 2016. The initiative plans to partner with local hospitals and community clinics to deliver high-quality nutritious food to families to improve their health and well-being.
What Makes ALL IN Alameda County Unique?
ALL IN Alameda County is an innovation incubator within county government. People who sit on all sides of a social issue – including community residents– come together to design new solutions, and apply creative thinking to remove barriers and take advantage of opportunities for progress.
All League News