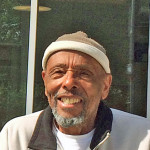 Charles Austin, League member and honoree, died June 18, 2017, at age 77. At the celebration of his life on June 27, friends and family recalled his charm, his organizing skill, his warm affection and friendliness and much more.
Long Campaign: At the Annual Meeting in May 2016, when the League awarded Charles Austin the Spirit of the League Award for  community organizing campaign to rename the South Berkeley Branch Library, the campaign to add Tarea Hall Pittman's name to the South Branch Library seemed nearly complete.  In the picture below, Mr. Austin smiles underneath the temporary sign with the new name, soon to be replaced by a permanent sign. The website already included Mrs. Pittman's name. However, there were many twists and turns and a permanent sign has still not been installed. Mr. Austin spent some of the last year campaigning vigorously against Library officials who did not complete the signage in the location and format agreed upon by an advisory group. For more about the recent campaign, go to the Berkeleyside obituary and earlier stories. Below you will find an account of his life and the campaign up to May 2016.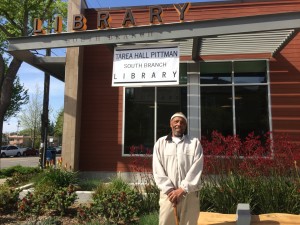 On May 8, 2015, the Library Board of Trustees agreed  to add the name of civil rights leader Tarea Hall Pittman to the South Branch Library. Strong community support, developed over several years by Mr. Austin, led the Library Board to reverse its initial refusal to change the name. Through gentle but persistent conversations over several years, Mr. Austin persuaded his neighbors and the larger community to support this change. He collected more than 2000 signatures and dozens of support letters from longtime Berkeley residents and many organizations to achieve this goal.
"It all started with this tooth," said Charles Austin, pointing to an upper front tooth in a recent interview. It was 1984. Mr. Austin had recently bought the house at the corner of Martin Luther King Jr. Way and Russell Street, facing the old South Berkeley Library. He needed his front tooth replaced; he consulted Dr. Thomas Arnold, whose office and home were nearby at 2930 MLK Jr. Way.
1984 was also the year that old Grove Street, which had separated the "white" part of the City from the area where African-Americans and Asians were permitted to buy homes, was renamed for Martin Luther King Jr.
Meeting Dr. Arnold was the start of a long friendship and of Mr. Austin's informal education about Tarea Hall Pittman, Dr. Arnold's godmother and a distinguished African-American civil rights leader.  Dr. Arnold carries on the dental practice started by Dr. William Pittman. He works and lives in the same building where Mrs. Pittman and her husband, Dr. William Pittman, lived and where Dr. Pittman practiced dentistry, the first African-American to do so in Berkeley.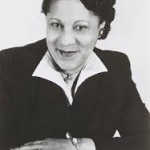 From Dr. Arnold, Mr. Austin learned about Mrs. Pittman's long civil rights career and her long-running "Negros in the News" Sunday morning radio program on KDIA. Community members recalled listening before going to church and how inspiring it was to hear about progress in their community and to hear the news from an African-American woman. African-American achievements and voices on the radio or in the news were rare in the 1930's to 1960's.
Mrs. Pittman–known as Ty–was a leader in getting war work for Negroes in the Kaiser shipyards, in working through the NAACP to get the Rumford Equal Housing bill passed and more. As he later learned, she was also involved in an earlier effort to get a better library for the children of South Berkeley—the library facing Mr. Austin's home.
How the Campaign Developed: From his house across the street, Mr. Austin had watched as the old South Berkeley Library was demolished and the current Library constructed and opened in May 2013. He noticed few minority members working on the project. Speaking with many people, he learned more about local history–from the Ohlone Indians onward. As he became familiar with the rich African-American history of the area and realized how little recent residents knew about local heroes and struggles against segregation and other racial barriers, he began to talk with friends and neighbors about honoring Tarea Hall Pittman. He began to attend Library Trustee meetings.
He consulted with his neighbors, including Dr. Arnold and David Holler, University of Professor of Rhetoric, University of San Francisco, and many others; he built support. He began to circulate petitions and seek letters of support. He won support from a wide range of people and organizations–from Glen Yashida, owner of the Berkeley Bowl, to Phyllis Gale of the Berkeley Historical Society and of the League of Women Voters.  To the Library Trustees, Belva Davis said she had been inspired by Mrs. Pittman to become a journalist and broadcaster and Debi McIntire,  recalled that Mrs. Pittman, Ms. McIntire's own mother, and others led the charge to build a new library at Russell and Grove for South Berkeley's children. Library Board Members Winston Burton and Darryl Moore, who represents the City Council on the Board; past Council Members Carole Davis Kennerly, Ying Lee, and Mary Wainwright; past School Board member Jeanie Rucker; current Council Members Max Anderson and Linda Maio–all were among the engaged citizens and leaders who gave strong support. LWVBAE strongly supported the renaming campaign.
Armed with his petitions signed by 2000 mostly local residents, and many letters of support, including from the NAACP, where Mrs. Pittman had been a leader.  Mansour Id Deen, head of the Berkeley NAACP and leaders other levels of the NAACP, spoke and wrote to the City Council.  The Council supported the project and directed Mr. Austen to the Library Board of Trustees.
Initial Rejection: Despite the South Berkeley Meeting Room packed with supporters speaking for the project, often with detailed personal recollections of Mrs. Pittman's work and importance, despite the many letters of support and signed petitions, the Board turned down the project by a 5 to 3 vote, based on the Library's own very restrictive naming policy for library branches.
Success: Responding to public pressure, the Board reversed its decision and approved the renaming on May 8, 2016. [For more on the history of the campaign, see earlier stories on the League website, on Berkeleyside, and by Judith Scherr, in the local press.]
Charles Austin's early life and background reflected and developed his community organizing skills. Born in Tatumas, Oklahoma, Mr. Austin was raised in the South Central Watts neighborhood of Los Angeles. "It was a nice neighborhood to grow up in, with a strong African-American community," he recalled. He attended Darcy High School, earned a business administration degree at LA City College and studied at Northridge State and Pepperdine University. While studying, he worked for the LA Library, delivering books to the branches, as a temporary mail clerk for the Post Office, and for Zeidler and Zeidler Menswear as a sales person and model and doing promotions.
Austin developed a career in social outreach and action and in work training for prisoners and then communities. He worked for the CA Department of Corrections and then in the US New Careers Manpower Program from 1966-68, managing 50 programs west of the Mississippi. Later he worked for the national Institute of Drug Abuse Prevention on treatment and other programs to keep people out of prison.
In 1974 he moved to Northern California to work for the Alameda County Criminal Justice Planning Board. That same year, he met his wife Carmelita Garner. Between them they have two sons and four grandchildren. Along the way, Mr. Austin has been deeply involved in political organizing, running Jesse Jackson's Northern California Campaign in 1984 and managing one of Oakland City Councilmember Wilson Riles Jr. 's three Oakland campaigns for mayor.
For more about his life and recent activities, go to the Berkeleyside obituary and earlier stories.
Nancy Bickel
All League News