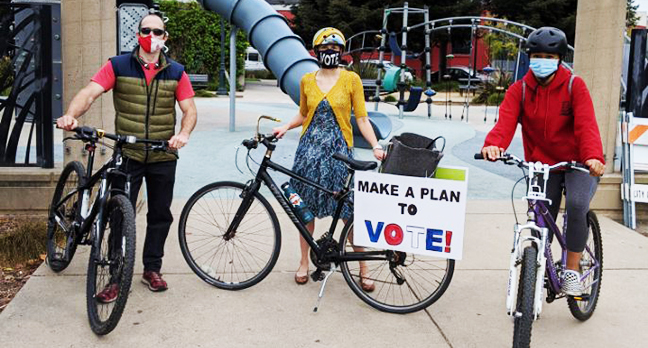 On Saturday, October 22, League members will take off on the 2nd  Bike Out the Vote! bicycle caravan. Attendees, including both bikers and walkers, will gather at Albany Memorial Park on Portland behind Albany High at 10:30AM. Signs and other voting swag will be distributed before the bike ride. As they progress along the route, they will be distributing the voting  literature.
The Bikavan will leave the Park at 11AM and head west down Portland Ave turning south on Key Route Blvd. then heading west on Marin to San Pablo Ave.
The Bikavan will cross San Pablo and continue south along the west curb/bus lane on San Pablo Ave to the new bike route passing Belmont Village Senior Living Center. Then turning left at the south end of Belmont Village to 10th St.
Traveling south along 10th St. the group will enter the Berkeley leg of the ride. They will turn west on Harrison then south on 9th St. Twenty blocks later at Berkeley Bowl, 9th St will change to 9th St Greenway  which, crossing Ashby, will become Emeryville Greenway. Nine blocks later Emeryville Greenway leads to Doyle Hollis Park where the Bikavan is expected to arrive by noon at the end of the ride.
To Join the Bikavan or ask questions email 
Margo Schueler at schueler890@comcast.net or phone (510) 528-1975.
All League News