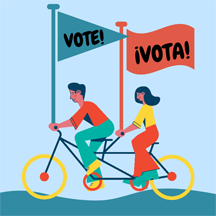 On Sunday October 25, League members will kick off a Bike Out the Vote! bicycle caravan. Many will be wearing white and sporting the stylish handmade "Vote" masks designed by Voter Services Team Member, Christine Knobel. There are two versions: "Vote" and "Stay Woke, Vote".
The event is in honor of the one-hundredth anniversary of both the National League of Women Voters as well as the passage of the 19th Amendment, which gave many women the right to vote.
Attendees, including both bikers and walkers, will gather at Albany Memorial Park at 10:30AM. Get Out the Vote signs and other voting swag will be distributed before the bike ride. As bikers ride along Key Route Blvd and Solano Ave, walkers will distribute VOTE literature. This will include bookmarks promoting VotersEdge, an online resource of unbiased, nonpartisan information on candidates and ballot measures, run by the League of Women Voters and Map Light.

The group will enter the Berkeley leg of the ride, traveling south along 9th St. and meeting additional walkers at Philz Coffee, 1313 9th. The group will continue South along 9th St. to the Emeryville Greenway and then to Doyle St. They plan to reach Doyle Hollis Park by noon. This park signifies the end of the ride, and will be commemorated with a distanced photo of the attendees.
Sign up to walk or ride HERE. For questions email:
Margo Schueler at schueler890@comcast.net.

All League News