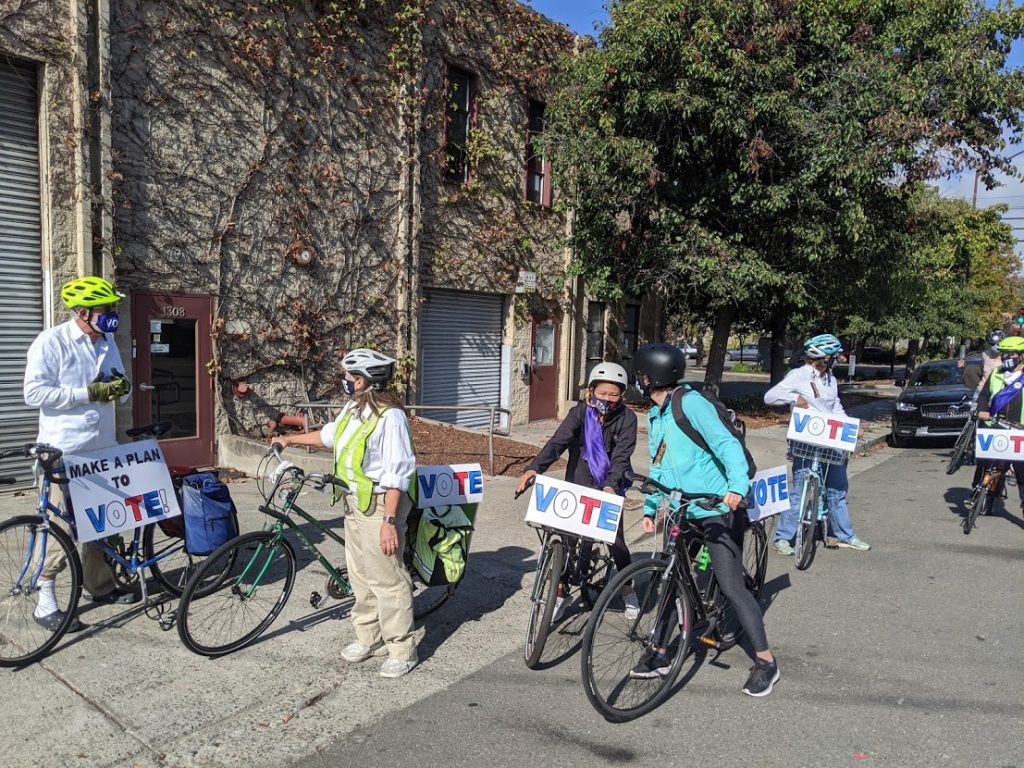 At 10:30 am sharp on Sunday, October 25th, a gathering of 17 walkers and bikers met up at Albany Memorial Park for the LWVBAE 'Bike Out the Vote' caravan as part of National Vote Early Weekend.

"Today, we're biking out the vote and celebrating the 100th anniversary of the LWV and the passage of the 19th amendment," said Adena Ishii, LWVBAE Voter Services Director and one of the coordinators of the event. "But let's not forget that if I was alive then, I wouldn't have been able to vote," she continued, referring to the fact that women of color were still fighting for the right to vote nearly five decades later. "Today we recognize how far we've come since then and how we will continue to move forward, despite how crazy the world feels right now."

The LWVBAE provided participants with a choice of posters to zip-tie onto their bikes, reading 'Make Your Plan to Vote,' 'Vote by Nov. 3' and, simply, 'Vote.' League members distributed purple sashes and vote ribbons to participants, many of whom were wearing all white in honor of the suffragists. Participants milled about and got to know one another while getting ready for the morning ahead. One participant remarked on the importance of voting, "This year it's incredibly important that we all vote to protect our country and save our democracy."

The bike route started down Solano Avenue, with bikers cheering and ringing bells. Many outdoor diners and other Albany residents cheered and Solano drivers honked in appreciation. Turning right on 9th Street, the caravan made its way through Berkeley. They passed out flyers detailing how to vote and bookmarks giving instructions on how to use Voter's Edge,  a non-partisan online resource with information about California ballot propositions and candidates. 

The ride ended at the southeast corner of Doyle Hollis Park, where participants cheered, "We made it! The whole trek through Albany, Berkeley and Emeryville!" Bikers put up more informative voting posters around the park and had some snacks before parting from the event.
—Lucy Montgomery
All League News