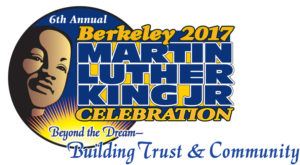 Now is the time to get your ticket to Mon-with a free ticket as a first year member or by buying your own ticket. The League of Women Voters of Berkeley, Albany,  Emeryville is proud to be one of the sponsors of this event.  Last year about 12 of our members attended.
For the 6th year, the Berkeley community will celebrate Martin Luther King, Jr. Day with a community breakfast from 8 to 10 am on Monday, Jan 16, 2017 at Hs Lordships Restaurant, 199 Seawall Drive, Berkeley.
Eight Free Tickets for First Year Members: This year, a generous League member has offered to donate tickets for 8 new members. Please send an email to membership@lwvbae.org if you want to receive a donated ticket. Sorry, but this offer is only for first year members, and public office holders are not eligible.
How to Order Your Own Ticket: Tickets are $25 per person. You may purchase tickets online at berkeleymlkjrday.org or send a check made out to Berkeley Chamber Foundation Attn: MLK Breakfast, 1834 University Avenue, Berkeley, CA 94703. When you buy your own ticket, please tell Phyllis Gale at  voterservices@lwvbae.org that you have done so, so that we know the names of all the League members who will attend. If you would like to sit with other League members, please indicate that in your message. Registration begins at 7:30 am at Hs Lordships; the event will be from 8am to 10am. To order tickets by telephone, or ask questions, call 510-843-2733.
This annual gathering brings the community together in a joyful, moving and meaningful way to promote peace, non-violence, justice and a beloved and healthy community. The organizers report that last year's celebration was an amazing community event with over 400 people.  This year they expect as many or more civic, faith, community, business and youth leaders.  The organizers intend to use the celebration at HS Lordships in the Berkeley Marina  to celebrate Dr. King's legacy and reaffirm our commitment to building a more just and loving community.
All League News