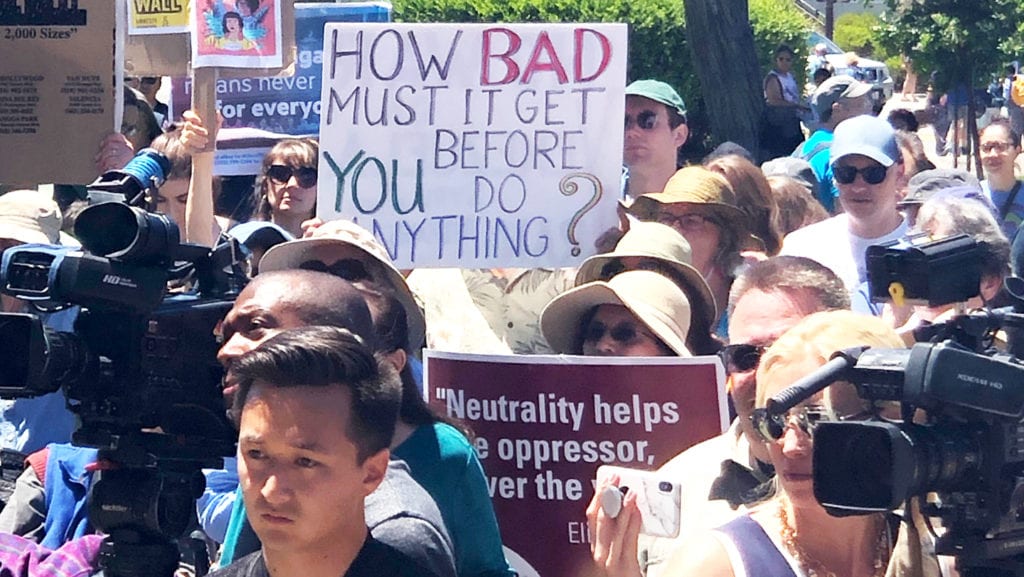 BERKELEY – Amid chants and signs to "Close the Camps," hundreds gathered at Civic Center Park on Saturday in solidarity with demonstrators across the nation protesting horrific conditions at migrant detention centers and ICE raids.
Berkeley Mayor Jesse Arreguin told rally-goers that the action was called because we have to do something amid threats of ICE raids to hit cities across the country, and continued reports of inhumane, filthy, and overcrowded conditions at migrant detention centers. He said collective action was needed until basic reforms were in place, and highlighted the needs of children.
"This cruel, inhumane and anti-American policy of separating kids from their families, and locking people in cages, denying people basic dignity and human rights must stop, it will stop, and together it will stop thanks to all of our efforts," Arreguin said.
The recent spate of national outrage leading to the rally, an outcry that has been steadily building over the last month, began when news reports emerged in mid to late June about the squalid circumstances migrant children were forced to live in at the detention center in Clint, Texas.
The reportedly appalling conditions are the latest example of the consequences stemming from a 2018 Trump administration policy to deter immigration from Central America and Mexico by separating migrant children from their families when they cross the U.S – Mexico border.
Alicia Jrapko, an Oakland resident who emigrated from Argentina, said she decided to join the Berkeley protest because she was going to as many Bay Area demonstrations against the cruel policies as she could.
"I can't imagine what it would be like for a parent to go through this," Jrapko said. " I don't think  people understand the desperation that causes people to leave their homes and their families to come here to the United States," she said, adding that U.S. foreign policy toward Latin America had led to much of the migration we see today.
The line-up of afternoon speakers included City of Berkeley Poet Laureate Rafael Jesús González, DREAMers, a representative of Congresswoman Barbara Lee's office, and leaders of advocacy groups and the local faith-based community.
Thanking local residents for attending the rally, State Senator Nancy Skinner said the White House is playing a sick, cynical game with people's lives as immigrant families are made to fear what could happen next.
"They don't want to go to school. They don't want to go the courthouse. They don't even want to go to renew their driver's license," Skinner told the crowd. "This is a sick stuff – we won't tolerate it and we are going to continue to resist," she said.
All League News