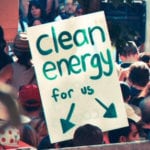 Local energy is finally here! Thursday June 14 at 6pm at the South Berkeley Senior Center, 2939 Ellis Street, Berkeley, near Ashby BART. View Map
Come to our next Berkeley Climate Action Convening event focused on East Bay Community Energy and its rollout in Alameda County this fall. Get informed, ask questions, and learn about why this transition is vital! 
The event
will feature East Bay Community Energy staff as well as Jessica Tovar, East Bay Clean Power Alliance Coordinator and Organizer with Local Clean Energy Alliance, an instrumental grassroots group advocating for clean local energy for over a decade.
–Minna Toloui
Program Manager, Ecology Center
All League News