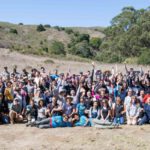 The  Bay Area Open Space Council is convening a meeting "Gearing Up for Good Policy for Bay Area Lands in 2018" at the Brower Center at 9:30 am on Thursday Jan 25.  Register on Eventbrite here.
At the Policy Gathering, the Council promises that you will get the scoop on the latest proposed legislation, bond and funding measures, and agency programs in the upcoming year that could fund, benefit, or impact Bay Area land conservation and your work. Whether you consider yourself a policy wonk or you are brand new to policy and campaigns, the panel will offer helpful insights on how we can work together as a region to advance land conservation policy and funding. We all have something to learn about the following:
Bond Measures and Funding: The $4.1 billion statewide park and water bond measure that is slated for the June 2018 primary ballot. What this legislation means for our communities and region, why it's important, and how the funds will be allocated.
Local, County, and Regional Plans: Emerging plans and programs at the local, county, and regional level that focus on issues such as climate change, agricultural conservation, fire relief, and wildlife corridors and connectivity.
Tax Policy: Potential impacts of the federal tax bill on conservation.
What's at Play: Current political dynamics that will impact priorities and decision-making by policy makers and officials.
Getting Involved: Ways that our regional community can collaborate and take action.
Our confirmed panelists are:
Deb Callahan, Moderator, Executive Director, Bay Area Open Space Council
Fred Keeley, Former Speaker pro Tempore, California State Assembly, Board Member, Sempervirens Fund
Robert Doyle, General Manager, East Bay Regional Park District
Marc Landgraf, External Affairs Manager, Santa Clara Valley Open Space Authority
John McCaull, Land Acquisition Program Manager, Sonoma Land Trust
Jay Ziegler, Director of External Affairs & Policy, The Nature Conservancy
We'll be using #OSCPolicy to talk about the event on social. Please share this event with any of your colleagues who might like to attend.
Time & Location:
The Gathering will be held at the David Brower Center in downtown Berkeley.
9:30am-10:00am: Doors open at 9:30am. Coffee & tea served until 10am.
10:00am-12:00pm: Program
12:00-1:00pm: Lunch
All League News