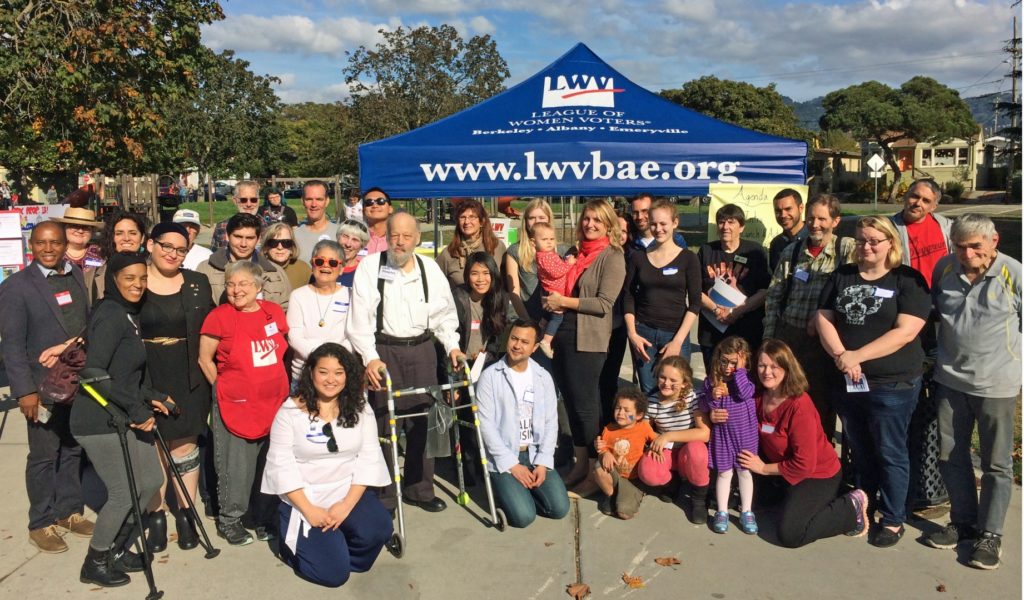 We invite you to apply to join the Board of the League for July 2018 to June 2019 and to apply for off-Board positions starting now or in the summer. Two Elective Board Positions still open.
League members and potential members are welcome to apply. Women and men who identify with any and all of our communities are warmly invited to apply as we expand and diversify our membership.
Application Period for positions on the League Board and off-Board starting July 1 is open; Although we have passed the deadline, we still have places for interested and concerned members on and off the board.

Why serve? Because the League's work of empowering voters and defending democracy has never been more important.  You can help continue the League's century long service as a volunteer grass roots organization. We provide fair and unbiased information to assist voters in understanding election issues. We register voters and encourage them to vote.  Right now locally we are campaigning to raise more money for our schools and local services by closing a loophole in Proposition 13's tax system and registering high school students. Both locally and state and nation-wide, we are lobbying to slow and stop climate change, and to expand voting rights, fight voter suppression, get big money out of politics and support fair apportionment.  At the national level, we also strongly support our DACA dreamers—and the rights of all immigrants to a fair path to citizenship and strong gun control. We are also studying local election systems.
We can't do this work without you—our citizen volunteers—especially in the upcoming elections.
Positions on the Board include: President, Secretary, Treasurer and six elected Board Members. The six elected members are not elected to a specific job; jobs are assigned by the elected Board and officers when the take office.  Jobs may include the following areas: voter services, action/advocacy, membership recruitment, training and retention, program/event planning, communications/publicity, community outreach, fundraising.  Jobs may be shared by two people or a small team. The new elected board may appoint additional members for needed tasks.
We need your skills and talents–creativity, determination, organizing, outreach, research, writing, photography, on-line tech & apps and  all you have to offer.
The League is a volunteer organization; the Board both makes League policy decisions and carries them out; all board members accept and carry out their agreed assignments and tasks. Out-of-pocket expenses related to League service may be reimbursed.   At present we have no paid staff; we do hire consultants from time to time for specific tasks.
Please copy the questions below and put questions and your answer into an email   You may request specific job descriptions at the same time. Send applications to: nomcom@lwvbae.org  by March 23, 2018, 5 pm. Later applications may or may not be considered.
Application Questions
League of Women Voters of Berkeley Albany Emeryville Board
and off-board positions for terms from July 2018-June 2019
Please copy these into your email to nomcom@lwvbae.org and respond appropriately to each of them
1. Contact info
Name
Street Address
City ZIP
Telephone—cell and home
Email
2. What League position[s] or job[s] interest you?
3. What League issues, activities do you care most about? Want to work on?
4. What skills or knowledge do you bring to the League? Want to learn in the League?
5. Are you a member of this League? When did you join? Membership in other Leagues?
6. What League jobs have you done and for what periods?
[We'd like to know whole range of your engagement with League, for example, brief turns at registering voters and serving on or chairing committees/teams]
7. Have you worked with other volunteer organizations and what did you do there?
8. Are you employed/a student?  Full or part-time?
[Please describe not only your job title but also the kinds of work you do in your job/studies.]
9. Other jobs you've done that you think are relevant to League work?
10. Are you able to spend at least 10 hours a month on League work/meetings etc? 
Details welcome as necessary.
Thank you for applying for a League job.  I learned skills, including my profession of documentary film writer & producer, made my best friends and have had great satisfaction in doing my League job.  I hope you get many rewards with the League too.
Nancy Bickel, Chair,
Nominating Comm. nomcom@lwvbae.org or call 510-684-6302
All League News