CITY COUNCIL, SCHOOL BOARD & OTHER
CANDIDATE FORUMS, SEPT 8 THROUGH OCTOBER
Voters will have the opportunity to hear local candidates introduce themselves to the community and answer important questions posed by you and by the League of Women Voters of Berkeley, Albany, Emeryville at Candidate Forums from September 8 through early October. Forums will be held online, and the recordings will be posted on the League's website at lwvbae.org and YouTube channel.
Below is the list of events and their dates and times. All forums will be held over Zoom. Those interested in a hybrid model, Zoom and in-person, are invited to host watch parties with friends and neighbors 🎉!
Register and please follow the instructions given to submit questions for candidates.
State Assembly – District 14: CANCELED
Berkeley City Council District 8: September 8th Video
Berkeley City Council District 1: September 8th
Alameda County District Attorney: September 19th Video
Berkeley School Board: September 19th Video
Berkeley Rent Stabilization Board: September 22nd Video
Albany City Council Candidate Forum: October 1st Video
Albany School Board: The candidates declined to participate
because they prefer an in-person forum tailored to their political slate.
AC Transit At Large Director: October 1st
Peralta Community College Area 7: October 1st
Emeryville City Council: October 6, 6:00-7:00 pm –  Register
Submit questions to Emeryville City Council candidates
Emeryville School Board : October 6, 7:30-8:30 pm – Register
Submit questions to Emery School Board candidates
Pros and Cons for State Propositions: Saturday, October 15, 10:00 am
Candidate    Forum    Ground    Rules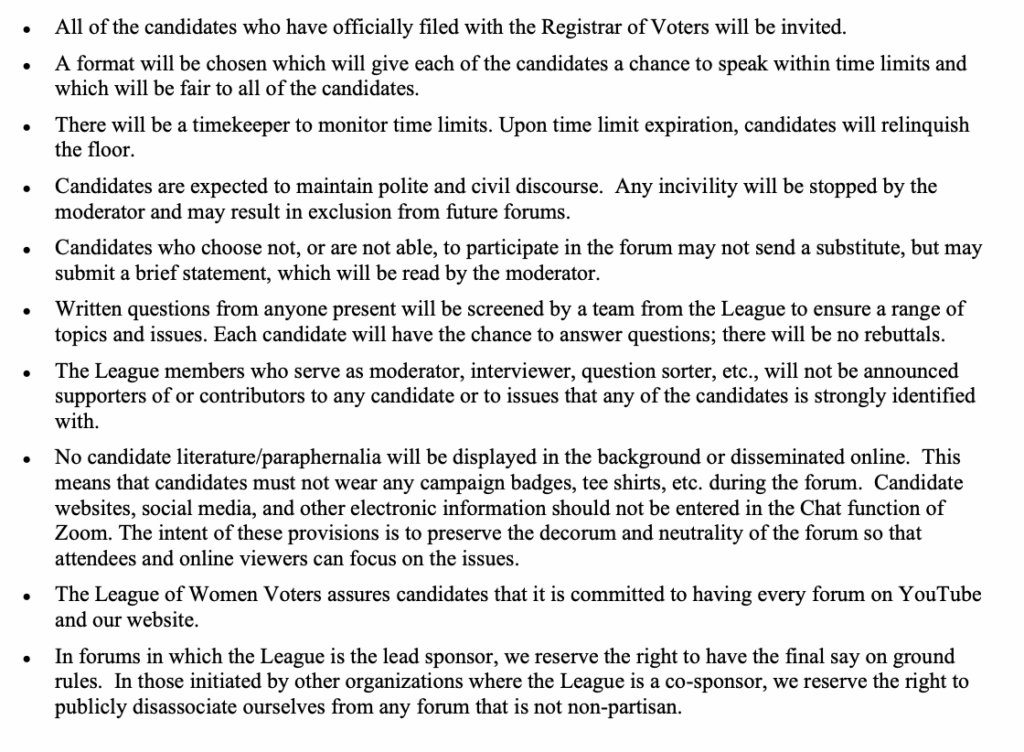 –Kandea Mosley Gandhi, President
president@lwvbae.org
All League News