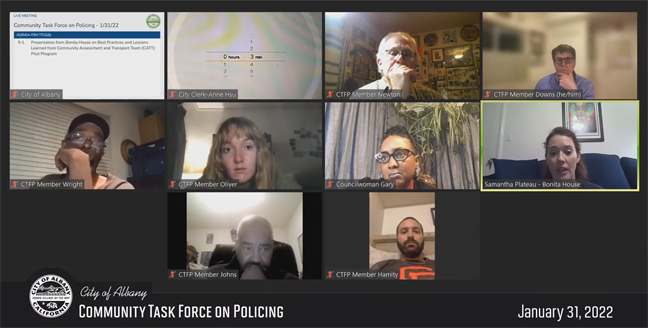 In recent years, the police response to mental health crises has emerged as a critical issue. On Monday, Jan. 31, members of the Albany Community Task Force on Policing heard a presentation about the current problems in law enforcement's mental health response by Samantha Plateau, a clinician, and representative of Bonita House, a private nonprofit mental health agency. Plateau described the work carried out by Bonita House in Oakland, Hayward, San Leandro, and Fremont, which includes using a mobile crisis team to respond to mental health calls, rather than having police handle such situations. Albany is now considering adopting a similar model.
According to Plateau, a major problem in the current policing response to mental health calls is that officers are under significant pressure to handle calls quickly. With many calls to respond to, it is just not feasible for officers to sit with someone for as long as two hours to do the in-depth de-escalation and assessment work that is often needed. Plateau said officers tend to simply write up a 5150 hold, in which someone "as a result of a mental health disorder, is a danger to others, or to [themselves]… and may [be taken] into custody for a period of up to 72 hours," according to California Welfare and Institutions Code.
Alameda County has one of the highest rates of 5150 holds in both California and the United States. John George Psychiatric Hospital, according to Plateau, is extremely busy. Shelters are similarly busy, and beds at shelters are not guaranteed. In all of the Alameda County shelters, the limited space is distributed by a lottery system.
Under the current Bonita House system that is in place in Oakland, Hayward, San Leandro, and Fremont, 911 dispatch sends police officers to the scene who then determine whether to call the Bonita House mobile response program, called the Community Assessment and Transport Team (CATT). This team is comprised of a clinician and an emergency medical technician EMT. If called onto the scene the CATT team would assess and work with the patient in question, allowing the officer to move on to other calls. When the CATT team determines what is best for the patient and the patient is determined to be calm enough, they will transport the patient to wherever is deemed most appropriate. This could be a designated 5150 facility (San Leandro Hospital, Alameda Hospital, the University of California Berkeley Student Health Center, the Oakland Behavioral Health Clinic, Highland Hospital, and John George Psychiatric Hospital), shelter, detox center, community-based organization, or the patient's home. Unlike most other mobile response teams, Bonita House will, when possible, transport the patient themselves instead of relying upon a city ambulance or police vehicles.
Police would be called back only if the situation escalates – a possibility given the unpredictability of mental health crises – or if officers are needed to assist in getting a patient into an ambulance.
Other proposals would have the police removed from the initial mental health response entirely. In that case, the mobile response team would arrive on the scene first, only calling the police if they require specific assistance. This would be done either by setting up a separate 1-800 line for a mobile response team, having 911 dispatchers screen for mental health calls, or by having 911 dispatchers redirect potential mental health calls to mental health clinicians associated with the mobile response team.
There are two reasons why this approach hasn't been implemented in the Bonita House system. First, EMTs felt that without an initial police response, they couldn't be confident in safety. If the police were to arrive on the scene first, then they could deal with weapons and other potential dangers. The second reason was the determination that training dispatchers to screen for mental health calls and to assess the safety of the situation was too arduous. Having 911 dispatchers that are well-trained in screening for mental health cases and safety would be crucial to lowering risk and increasing the effectiveness of a CATT response, according to Plateau.
Discussions for the creation of a mental health mobile response model in Albany will continue.
–Alex Li
All League News