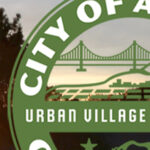 The City of Albany Climate Action Committee met on October 18th, 2023 to discuss matters related to new updates for a number of programs. The next meeting will be held on November 15th, 2023.
The Budgeting Process: Along with Jeff Bond, Albany's Community Development Director, Michelle Plouse, the Community Development Analyst, presented an update on Measure DD, and the committee's funds. Measure DD allows 1 ⁄ 3 of its revenue to go to the Climate Action Committee. Members expressed their delight over the budget preparation, and the public  suggested some ways to use this money. Member Dan Liebermann suggested funds be invested in the EV vehicle program for police vehicles, a project that the committee has suggested before.
Street tree management plan: Sutton Payne, the committee's CivicSpark Fellow, gave an update on the street tree management plan, especially with the surveying of trees around the city. The city now has a website that contains information about different species, the state of their well being, growth space, mapping trees around Albany, etc.. Members gave suggestions on how to improve the map and website. See community viewer here. The city has also been working with HortScience to discuss next steps on consulting for the street tree program.
–Haadiyah Mohammed
All League News