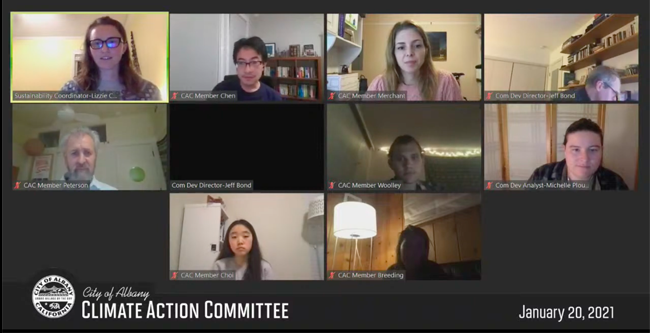 The Albany Climate Action Committee had their first meeting of the new year late last month in which attendees received updates on current projects and members were voted into new positions.
Within the updates portion, StopFoodWaste.org, drivecleanbayarea.org, and TheClimateCenter.org, were among the resources provided for Albany residents to better monitor and lessen their environmental impact. 
Other updates included the establishment of an electric-preferred reach code, an outline of green building measures, and the continuation of East Bay Community Energy.
Following announcements was an overview of the Advisory Body Handbook from the Sustainability Coordinator.
During chair elections, committee members Sarah Choi and Daniel Chen were elected as 2021 Chair and Vice Chair, respectively. Committee members then gave brief introductions and proclamations of appreciation.
In anticipation of its launch, a demonstration was given for the Albany Electrification Website to receive final attendee feedback. Afterwards, subcommittee members made final announcements and planned future agenda items to include electrification.
–Ava Clason
All League News