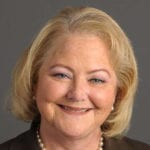 The "Face the Future" Speaker Series brings Alameda County District Attorney Nancy O'Malley to the Berkeley Central Library, on Sunday, November 17, from 2 to 4 pm, to speak about "Innovating for Gun Safety and Juvenile Justice". "Face the Future" is brought to you by the League of Women Voters of Berkeley, Albany and Emeryville,
Nancy O'Malley has been the District Attorney for Alameda County since 2009.  You can watch her account of her life and work in the video below. Among her many accomplishments:
Learn more. Come and hear her speak.
All League News