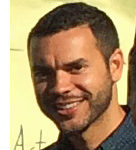 League Member Esteem Brumfield and  President Adena Ishii recently spoke at the celebration of 50 years of public service at the University of California, Berkeley.
In a short video posted with the UC story,
Esteem talks about his own work with the Magnolia Project helping to rebuild a area of Louisiana after Hurricane Katrina. Esteem said he found the trip "transformational." He was reminded of his own family and upbringing as he worked with several community groups doing community organizing around gardening and a more directly political group.
In an article in the on-line Berkeley News, UC's Will Kane wrote:
When Adena Ishii, 27, was a student volunteering at UC Berkeley's Public Service Center, she started a program to help students transferring from community colleges adjust to life on Berkeley's big campus. Three years after graduating, she's still doing the same work.
"There aren't many places where they let you start something on your own as a student, then give you full autonomy over a program," she said Sunday at the Public Service Center's 50 th birthday party. "And I learned enough that I kept doing it after I graduated."
Ishii, a 2014 graduate who majored in business administration, was one of dozens of Berkeley graduates who gathered to honor the university's commitment to public service.
To read the whole story, and see the short video click here.
All League News