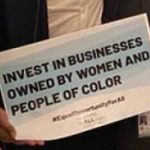 On June 24, affirmative action bill ACA 5 passed the senate vote. The bill, authored by Assemblymembers Weber, Gipson, and Santiago and co-authored by Assemblymembers Burke, Cooper, Gonzalez, Holden, Jones-Sawyer, Kamlager, Kalra, McCarty, Stone, Wicks and Senators Bradford, Mitchell, Hueso, and Skinner, will enable Californians to vote this fall on a measure to repeal Proposition 209 and restore equal opportunity and affirmative action programs. In repealing Proposition 209, California would join 42 other states that allow public programs such as government contracts, college admissions and job opportunities to take into consideration race, gender, and ethnicity.
Californians voted to pass Proposition 209 in 1996, adding a section to the Declaration of Rights (Article I) of California's Constitution. The new section proclaimed that "the state shall not discriminate against, or grant preferential treatment to, any individual or group on the basis of race, sex, color, ethnicity, or national origin in the operation of public employment, public education, or public contracting."
Proponents of Proposition 209, including the Yes on Proposition 209 (sponsored by Californians Against Discrimination) committee, the California Civil Rights Initiative (Kern County Campaign) committee, and the California Republican Party argued that consideration of race, sex, color, ethnicity, and national origin consituted "reverse discrimination."
"Government should not discriminate. It must not give a job, a university admission, or a contract based on race or sex. Government must judge all people equally, without discrimination," wrote proponents in the official argument featured in the voter guide. The statement argued that privilege varies between individuals rather than groups; "not every white person is advantaged" and "not every 'minority' is disadvantaged" read the guide.
Groups opposed to ACA5 today provide similar arguments.
"Giving special or preferential treatment to someone based on their race is racism itself, or on their sex is sexism," remarked Assemblyman Steven Choi (R-Irvine) recently, as quoted in an article by Evan Symon for the California Globe.
Notably, some of the most outspoken opposition to ACA5 are Asian-American organizations that worry affirmative action would lower acceptance rates of Asian-American applicants in higher education. (Nevertheless, surveys indicate that most Asian Americans tend to support affirmative action. For example, a 2014 Field Poll found 69% of Asians surveyed in favor of affirmative action.)
Critics of affirmative action fail to consider that to be colorblind is to overlook differences in the experiences of people of different identity groups.
"Even when income levels are equal, Black and Latino families face unique challenges that limit their access to high- quality school and good-paying jobs," explains the Opportunity for All Coalition, a coalition with the objective of repealing Proposition 209. "While a black family and a white family may have the same household income, for example, each has wildly different experiences and circumstances that can affect educational and professional opportunities much more than income."
Historically underrepresented groups have been consistently harmed by the passage of Proposition 209.
"Since its passage, Prop 209 has caused steep disinvestment in the education, employment, and equality of women and people of color," wrote the State League. For example, according to a San Francisco Chronicle article by Alexei Koseff, the passage of Proposition 209 resulted in an immediate reduction in the proportion of Latino and Black freshmen by half at UC Berkeley. Additionally, the Opportunity for All Coalition reports that contrary to popular belief, Asian American and Pacific Islander admissions to the University of California have declined since the passage of Proposition 209.
In addition to boosting equality in education, equal opportunity programs would also benefit minority business owners, for example by generating billions of dollars worth of economic opportunities for Asian American small business owners. Asian American businesses in cities such as Chicago and Atlanta where equal opportunity policies are legal earn more public contracting dollars than Asian American businesses in cities such as San Francisco where such policies are illegal, according to research cited by the Opportunity for All website.
Repealing Proposition 209 would also set the scene for other equal opportunity programs such as "providing more opportunities for women to succeed by encouraging employers to eliminate discrimination in the workplace" and "creating fair hiring practices in the State of California that give women, Latinos, Asian- Pacific Islanders, and African-Americans access to public career jobs." (A comprehensive list can be found at https://opportunity4all.org/about/.)
"To meaningfully address the lack of equal opportunity here in California, we need race-conscious policies that take into account the full breadth of people's experiences, which are shaped by the systemic racism and sexism that prevents equal opportunity," reads the Opportunity for All Coalition website.
"California is a majority-minority state, yet our public institutions continue to favor white people and men," wrote the State League, emphasizing the need for the state to actively promote equal opportunity and close glaring gaps in privilege.
–Laszlo Zim
All League News