On October 5, 1978, President Jimmy Carter signed the Asian/Pacific American Heritage Week into public law. In 1990, the celebration was extended to a month, and during the Obama administration, was renamed the Asian American and Pacific Islander (AAPI) Heritage Month. AAPI Heritage Month is used to celebrate Asian American and Pacific Islander history and achievements. This month, the League of Women Voters Berkeley Albany Emeryville Diversity Equity and Inclusion (DEI) team is highlighting six extraordinary Asian Americans and Pacific Islanders from history and present day.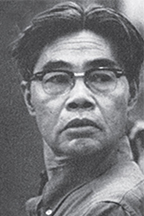 Philip Vera Cruz
"My life within the union, my life now outside the union, are all one… our struggle never stops."
On December 25th 1904, Philip Vera Cruz was born in Ilocos Sur in the Philippines. Philip later moved to the United States in 1926, where he worked as a farm laborer in the San Joaquin Valley. He was paid only seventy cents an hour despite working nine to ten hours a day in 100 degree temperatures. In 1948, he joined his first strike regarding wages and working conditions: The Asparagus Strike. This strike influenced Filipino American workers in California to join other strikes, and helped spark the farm labor movement in the United States. He remained active as a labor leader for the rest of his life. Fifty years after he left the Philippines, he went back for the first time to receive the first Ninoy M. Aquino Award.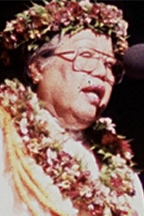 Emily Kauiomakawelinalaniokamanookalanipo
"…I don't change the dances and have kept them intact for 50 years. My uncle told me the only way the culture is going to live is if the dance is kept pure."
Kauiomakawelinalaniokamanookalanipo was born on Oahu, Hawaii on March 8, 1909. She was raised by her maternal grandparents, where she learned and practiced Hawaiian customs. In 1933, Kauiomakawelinalaniokamanookalanipo learned hula from her uncle, practicing six nights a week for three years. She opened her own hula school in 1936—Ilima Hula Hale, where she taught hula, traditional chants, and pahu drumming. Kauiomakawelinalaniokamanookalanipo was recognized as a Living Treasure of Hawaii by the Honpa Hongwanji Mission in 1983, and the following year was one of the winners of the National Heritage Fellowship.
Dalip Singh Saund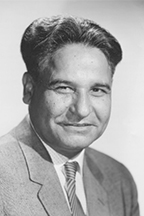 "Look – here I am, a living example of American Democracy in practice. The American people elected me to their congress. Where else in the world could this happen?"
Dalip Singh Saund was born in Chhajulwadi, Punjab Province, India, in 1899. He earned a PhD in mathematics and agriculture in 1924 at the University of California Berkeley. Although state law prohibited Asians from owning land, he managed to own the land by having his friend sign the deed. Saund founded the India Association of America in the 1940s to address the restrictive laws against Indians in the United States. Saund went through naturalization and later ran for Congress as a Democrat in 1956. While running, Saund focused on local issues on agriculture and small businesses. Saund faced rampant racism during his campaign and had his opposition constantly bring up his race and background. Despite this, he managed to win and become the first Indian American to be elected to the United States Congress.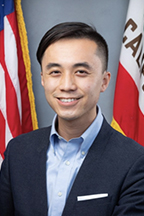 Alex Lee
"Only by putting people and policy first can we achieve a California that is equitable and prosperous for all." 
Alex Lee was born on July 11, 1995, in San Jose, California to immigrant parents from Hong Kong. He enrolled in the University of California, Davis and earned a dual degree in political science and communications. Still in college, Lee acted as a student senator in 2014 and then as the student body president in 2016, where he found his passion for advocacy. Lee, after finding his passion, interned for the politicians Mike Honda, Cecilia Aguiar-Curry, Kansen Chu, Evan Low, and Ed Chau. In 2019, Lee began campaigning for California's 25th State Assembly district and won in 2020, making history by being the youngest Asian American and first openly bisexual member in the California State Assembly.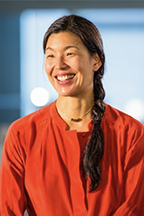 Ai-Jen Poo
"I believe love is the most powerful force for change in the world… You can change policy, but you can also change relationships and people in the process." 
Ai-Jen Poo was born to Taiwanese-American immigrant parents in Pittsburgh in 1974. Poo majored in women's studies at Columbia University, and started her activism journey when the protest she joined led to Columbia's establishing the Center for the Study of Ethnicity and Race. After graduating, Poo joined the Committee Against Anti-Asian Violence, where she learned about domestic worker issues. She later co-founded Domestic Workers United (DWU) in 2000, aiming to establish fair labor standards for workers in New York. Through the DWU, Poo was able to help pass the Domestic Worker Bill of Rights into law, which gave domestic workers paid leave, overtime pay, and legal protections from harassment and discrimination. Additionally, she co-founded the Supermajority in 2017, a voting advocacy hub for women.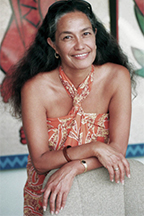 Haunani-Kay Trask
"I am so proud to be angry. I am so proud to be a Hawaiian."
Dr. Trask was born on October 3, 1949, in San Francisco. Dr. Trask grew up in Oahu and graduated from Kamehameha Schools, originally established to educate Native Hawaiians. She earned her bachelor's degree in political science from the University of Wisconsin at Madison in 1975, and later earned her doctorate and master's degree in the same field and university in 1981. Throughout her life, she has advocated for sovereignty for Native Hawaiians through her teachings at University of Hawaii, her poetry books, and her protest participation. Furthermore, she represented Native Hawaiians at the United Nations Working Group on Indigenous Peoples in Geneva and the Nations World Conference against Racism, Racial Discrimination, Xenophobia, and Related Tolerance.
–Arabella Loste
All League News