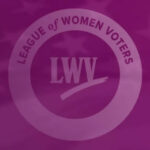 WASHINGTON/MEMPHIS – The League of Women Voters of the United States issued the following joint statement with the League of Women Voters of Memphis-Shelby County in response to the murder of Tyre Nichols:
"Today we witnessed yet another senseless murder of a Black man at the hands of the police. Our hearts are broken. As we learn the details surrounding the murder of Tyre Nichols, we are angry that this nation, once again, is traumatized by fatal police brutality against a person of color.
"We demand justice for Tyre Nichols and the countless Black people who are disproportionally murdered by the police. The roots of racism in our justice system have poisoned the very institution that is indebted to serve us.
"We know that, in the end, justice doesn't bring back the lives of Tyre Nichols or the other people of color who have been senselessly murdered by law enforcement. At the League, we seek a democracy that values and cherishes every person. When our systems continue to enact violence on Black bodies, our democracy is not whole.
"Across the nation, people demonstrating and protesting in the streets are showing what democracy looks like. We stand with these activists as they exercise their right to assemble and grieve this injustice.
"We mourn with the family of Tyre Nichols, and our thoughts are with the city of Memphis as they endure this tragedy. May their mourning bring change to a broken nation."
All League News