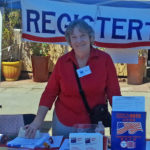 Sign Up to Help on Sunday by clicking here.
LWVBAE will have a tent at
1715 Solano Avenue
. Come and represent the League for two hours registering voters or explaining why we love the League to interested citizens.
Enjoy the amusing parade and chat with some of the thousands of people who flock to the stroll every year. The frequent praise of the League and the interesting questions, keep you engaged and busy, as Susan Reneau, at left,  found when she worked at the Stroll.We'll be among the  five hundred vendors including 50 entertainers, 50 food booths, 150 government and non-profit agencies, 150 juried hand-crafters, a 75 entry parade, state of the art mechanical rides and much more! 
(Parade begins at 10am.)
If you are able to help out please
add your name, email, and phone number to the schedule.
  If you have questions please contact Programs Director, Jessica Powell at
program@lwvbae.org
or (916) 662 6783.
LWVBAE continues to bring Voter Registration to the Stroll. This year, we will be providing voter registration forms for all Californians that pass by our tent.  We will the California state forms along with the Alameda County forms.  And, we will have our Online Voter Registration cards to hand out.  Please fill in a slot that is convenient for you!  Phyllis Gale – Voter Services Director voterservices@lwvbae.org
All League News