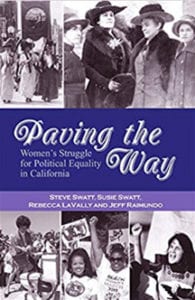 In Celebration of the League's 100th Anniversary, we present our "Looking Back, Moving Forward" event. It is taking place Sat, February 29, 9:30am – 2:30pm at the Dominican Center, 43326 Mission Boulevard Fremont, CA. View Map
Susie and Steve Swatt, Authors of "Paving the Way: Women's Struggle for Political Equality in California" will discuss the history of Women in politics in California.

There will be Panel Discussions and Next Steps Interaction:
Panel I: Social Justice and Actions
Panel II: Empowerment in the Workplace and Community
Panel III: Political Empowerment
Call to Action/Next Steps
Event: $35. includes packet, continental breakfast & lunch. Sign up on eventbrite.
This is an inclusive event, no one will be turned away due to lack of funds. Contact President, Madeline Kronenberg mkronen@aol.com for coupon code
Visit our Website: http://lwvbayarea.org/2020-league-day .
All League News