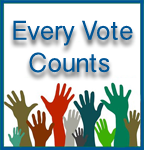 2019 +
LWVBAE action concerns preregistering students age 16 &17 for the vote under the new rules from the Registrar of Voters plus civic education in schools and local organizations.  Members gather information and statistics to be prepared for a time of going forward (See Informative Resources at bottom of page.)
Issues in 2017 and 2018 
This team worked as Civics Education with the goal of educating and registering our youth to vote.   Activities involved working with  Berkeley High School students who were members of the  "Vote 16" group.  LWVBAE were active to register all high school seniors and to preregister those students age 16 & 17.
LWVBAE follows issues through newsletters, conferences, workshops, and forums.
The Higher Education Study of 2015-16
LWVBAE's  main focus in Education in 2015-16 was the California Higher Education Study.  
Issues Followed in 2014-15
Funding:  the planning of the Local Control Funding Formula in our schools.
Support quality pre-school education for all so that all children will be ready to learn when they enter school: We plan to lobby for more funding in conjunction with a statewide League effort.
Find alternatives for suspension. The Ed Action Team met with the middle schools and learning about Peer Courts, giving our support to the efforts the district is making toward applying ideas of Restorative Justice.
Closing the persistent achievement gap: We hope that the new state funding formula, the new core education program and other improvements will finally achieve this goal.
Informative Resources