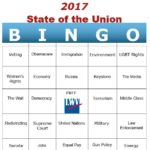 The Constitution requires the president to periodically give Congress information on the state of the union. On Tuesday night, President Trump will deliver his first address to a joint session of Congress.
We don't know what he will say – but we will be listening and ready to take action if the president outlines proposals related to League priorities such as voting rights, healthcare and the environment.
It's a big night for America, and our work has never been more important.
This speech is intended to direct the administration's priorities for the rest of the year.
We hope you will tune in!
To have a little more fun, the League has designed "State of the Union BINGO"! Watch the speech, play along and engage with us on social media. Follow @LWV and @VOTE411 and use the hashtags #LWV and #SOTU to join in and play along live.
Thank you for being a strong partner in Making Democracy Work™!
Chris Carson
LWVUS President
P.S. Want to support the League further? Please consider making a donation to our Annual Fund today! Thanks again.