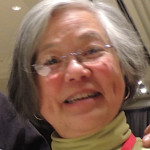 Li-Hsia Wang, Health Team Chair
lihsiawang@gmail.com

Because there is no single payer legislation pending in CA right now, the state and local committees have been working on other issues, including last spring's Berkeley soda tax and this summer's support of legislation allowing eligibility of undocumented residents of California for MediCal and ACA bronze and silver levels of insurance.  Governor Brown's suggested budget has resulted in cutting back some legislation to just undocumented residents 19 years old and below (with much decreased medical costs).  However there is still pending legislative discussion for older residents.
LWV California as well as many local Leagues celebrated the 50th Anniversary of Medicare with rallies including a large one in Oakland–the celebration was designed to not only recognize the birthday but to work for improvement to include all residents–ie Single Payer or Improved Medicare for All.
Also, I have several copies of The Healthcare Movie, which most of our members who are interested have already seen. I am planning on donating them to public libraries, including Berkeley, Oakland, Albany, and Alameda.
There is still a great need for the development of an active state-wide health committee, which I haven't managed yet.
Li-hsia Wang